Description
Artisan, small-batch, and hand-crafted lavender essential oil.
The lavenders distilled to create our lavender essential oils is naturally grown without the use of herbicides or pesticides.   Just love and rain make these beautiful plants grown here in Sunny Sequim
B&B Family farm distills all our own lavender essential oil. The lavender was grown, cut fresh, and distilled within 24 hours of being cut in a copper still right here on our farm. We are a certified essential oil producer by the International Perfume Foundation and have won many awards for the smell and quality of our lavender essential oil. Nothing has been added to our pure lavender essential oil and the lavender is grown without the use of any chemicals or pesticides.
Throughout the months of July, August, and September you will find Zion in various stages of distilling and can watch the process, seeing first-hand the amount of labor and lavender that goes into producing this precious oil. We distill many varieties or cultivars of lavender and have samples for smelling available in our seasonal gift shop. And if you can't make it here between the months of May and September, we also offer a sample set of different varieties of lavender essential oil for purchase. This is the best way to get an idea of the huge range of smell profiles captured from the different varieties of lavender and find the one that suits you best.
Each bottle will come in a blue-tinted glass bottle with a European dropper top. There is also a roller cap option that can be purchased separately and will replace the standard dropper top. It can be reused when you're ready to order a new bottle. We recommend you store the bottles in a cool, dark location.
All bottles are 5 ml except the lavender sample card which contains 4- 1 ml vials (1 Grosso, 1 Super, 1 Melissa, and 1 Royal Velvet or Folgate) 
Here is a guide to the scent profiles for the different lavender oils
Lavandula Angustifolia (English) 100% Pure essential oils for varieties Royal Velvet, Royal Purple, Melissa, Folgate, and Hidcote Pink
Lavandula X Intermedia (French) 100% Pure essential oil for the varieties Grosso and Super
Lavandula X Intermedia – Specialty Blend 100% Pure essential oil, combining a variety of Lavandin cultivars including Gros Blu, Edelweiss, Silver Frost, White Spike, among others. Varies from year to year, depending on the unique varieties included in the blend.
Below are the lavender essential oil varieties we distill on our farm.  They are listed from the varieties we distill the most to the least.
Lavandin Essential Oil – Grosso
This is one of the highest oil producers of all lavenders. The oil has more camphor (the scent in Vick's vapor rub) than the Angustifolia (English/sweet-smelling) oil varieties. Some prefer this lavender oil because it is what many think of as the traditional lavender smell. It is not overpoweringly sweet but is a strong pleasant scent. Grosso blends well with citrus essential oils like lemon.  Grosso is a beautiful smelling oil and a great place to start.  It is often used in products because of its strong smell, large volume of oil, and cost to purchase.
Lavender Essential Oil – Melissa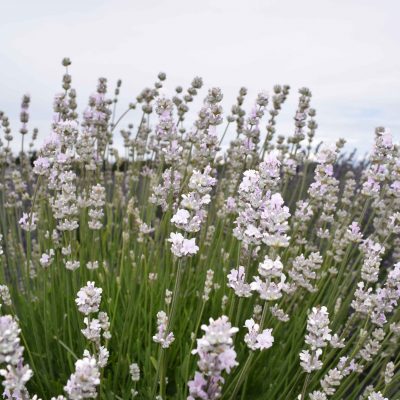 As the hint of spice in the taste of this lavender, there is a small hint of vanilla and spice in the scent of the oil as well.  The oil is a unique smell but very sweet and fragrant.  A favorite variety for its unique lavender scent and a favorite of ours!  This is also an excellent oil producer for a true lavender.  This is the personal favorite variety of our distiller, Zion Hilliker.
Lavandin Essential Oil – Super
A fantastic smelling lavandin oil.  The sweetness of this oil is often confused with an Angustifolia oil.  We love this oil because of its unique sweet scent and because it is a hybrid it produces a fair amount of oil.  A super plant is not much to look at, so this is a variety ripe for distillation.  Super is an excellent oil producer, not quite as much as Grosso but still a great producer.
Lavender Essential Oil – Royal Velvet
As a low producer of oil, it is often difficult to find, but this variety of oil is a standout. The scent is sweet and inviting. It is a classic English lavender smell with which you can't go wrong.  Sweet, soft, and has a classic lavender smell.
Lavender Essential Oil – Folgate
A very common Angustifolia oil variety.  Folgate produces well for an Angustifolia and the scent is very calming with a very very slight hint of mint (Lavender is in the mint family). The scent is like other Angustifolia in its sweetness but differs with its hints of citrus and mint. Kristy's personal favorite lavender scent on our farm.
Lavender Essential Oil – Maillette
A fantastic smelling oil! Maillette is sweet and has one of the highest contents of linalyl acetate, the key ingredient in the lavender scent. It is a favorite in the aromatherapy arena and is a favorite "therapeutic" variety.   Maillette is a poor oil producer and not much to look at. Quality over quantity here.
Lavender Essential Oil – Royal Purple
Very similar to Royal Velvet with a softer more powdery scent.  The oil is an excellent choice but not a favorite of our because it produces very little oil.   Royal Purple is also a very poor oil producer.
Lavender Essential Oil – Hidcote Pink
A very good oil producer for Angustifolia. A rich, sweet-smelling oil that is a favorite among perfumers and aromatherapy. The oil is high in linalyl acetate (the main ingredient in the lavender scent) and has a very sweet cotton candy-like scent.  If you want to indulge in lavender, this is the oil!